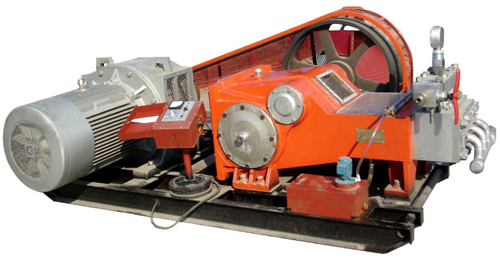 High Pressure Grouting Pump XPB-90C
This product is designed according to the market demand of high pressure grouting pump. This product is combined fluid on the pump head, the motivation to use needle bearing type transmission, low noise, low temperature rise, guarantee continuous operation 24 hours a day. Suitable for foundation treatment of high-pressure rotary jet grouting, curtain grouting, soil retaining cofferdam, mine well plugging, the barrel wall, slope anchorage, etc.
This product in the high pressure jet grouting construction of three gorges second stage cofferdam vibration hole for the specified products, has made great contribution to the three gorges projec.
Performance Parameters
Maximum Motor Speed

1320r/min

Stroke Length

100mm

Theoretical Capacity

Motor Power(KW)

Plunger Diameter
mm

75

90

M3/h

L/min

Rated Discharge Pressure(Mpa)

6.0

100

39

45

50

5.0

85

46

55

45

4.0

66

59

70

40
Note: above parameters are theoretical data when the medium proportion is 1.0.